On April 10, 2007, Governor Martin O'Malley today signed the National Popular Vote bill (HB 148 and SB 634). Maryland thus became the first state to enact state legislation to guarantee the Presidency to the candidate who receives the most popular votes in all 50 states and DC.
The enactment of the legislation in Maryland came only 411 days after National Popular Vote held its initial press conference on February 23, 2006.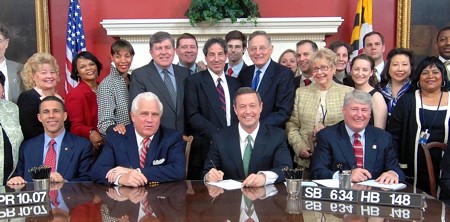 Maryland Governor O'Malley signs National Popular Vote bill. Sitting (from left): Lt. Gov. Anthony Brown, Senate President Mike Miller, Gov. Martin O'Malley, and Speaker Mike Busch. Standing (from left): Delegates Barbara Frush; Senators Verna Jones, Catherine Pugh, Roy Dyson, Chris Falkenhagen, and Jamie Raskin (main sponsor of SB 634); Ryan O'Donnell (Fair Vote Action Maryland), former U.S. Senator Birch Bayh of Indiana; Hannah Powers; Delegates Jon Cardin and Sheila Hixson (main sponsor of HB 148); Raskin aides Carol McDermott and Alice Wilkerson; Delegates Jim Gilchrist, Susan Lee, Veronica Turner, and Keith Haynes.